There are many reasons that might make you want to delete your Facebook account. You may want to take a break from social media or could be worried about your mental health. Or perhaps you might be looking to regain some of your digital privacy. You might just want a fresh start for yourself, or you may want to delete an account on behalf of a minor or a dead relative.
Whatever your reason, we are here for you. In this article, we'll show you how to delete your Facebook account. We'll also look at other vital details you need to know about deleting Facebook.
Deactivate or Delete?
To start, there is a difference between a Facebook account deletion and deactivation. While they might seem similar, they mean very different things.
Deactivate your Facebook account
Deactivating your account is a temporary suspension of your Facebook account. We get that you might not want your Facebook account anymore, but you don't have to delete it permanently. Consider deactivation if you think you might change your mind.
When you deactivate your account, it becomes hidden and inactive. Nobody will be able to see your Facebook profile picture, pages, pictures, friends, or posts, even if they search for them.
Some of the perks of deactivating your account include:
You have the option of reactivating your account whenever you want.
Your timeline and information remain hidden from the world but not deleted.
Everything is not lost. Your sent messages and conversations will still be visible.
Your page can be suspended, but your account remains valid. However, you won't be able to access the account until you reactivate it.
You may still be able to use Messenger after deactivation. But won't be able to access other Facebook-affiliated third-party apps and platforms.
Your current friends on Facebook would still be able to see your name on their friends' list. However, only your friends have this privilege.
Deactivation is best if you are looking to take a temporal break.
Delete your Facebook account
Deleting your Facebook page, on the other hand, has far more extreme consequences. It severs all ties your account has with the Facebook server.
Once your account is permanently deleted, there is no option for reactivation. And that's not all.
Here are some things that may occur when you delete your account:
You permanently lose access to the account when deleting is complete.
You lose your account on Facebook Messenger and other Facebook-affiliated apps, such as Oculus, Spotify, etc.
Your friends may still be able to see past messages sent by you before the deletion.
Your Facebook account information and media will also be deleted from the database.
How To Deactivate Your Facebook Account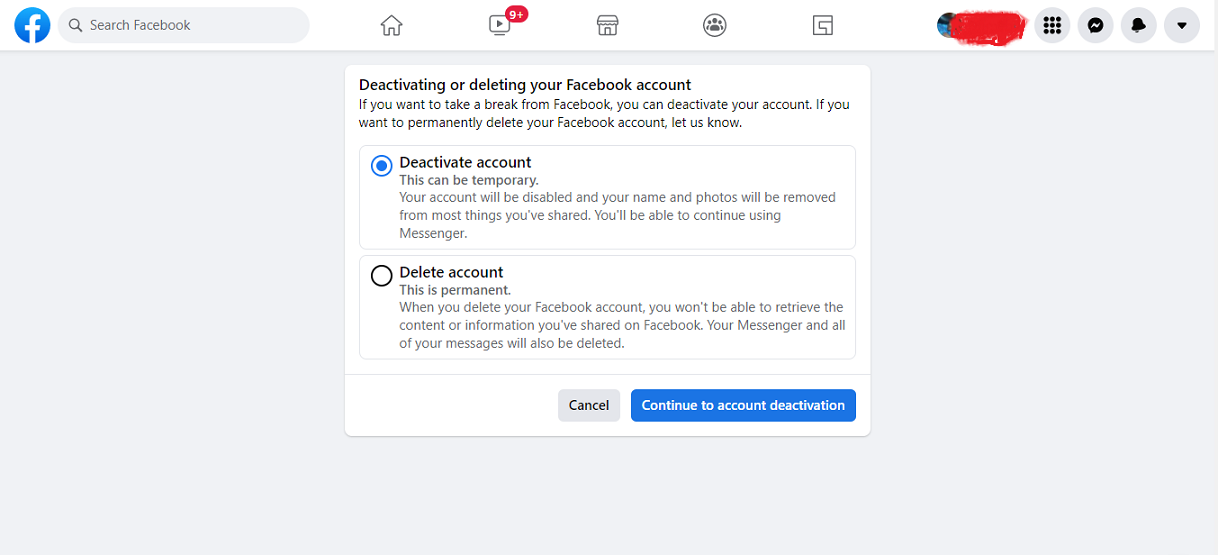 If you are tired of Facebook but not yet ready to delete your account, you should consider deactivation. Here are a few steps on how to deactivate your account:
1: Open your Facebook account.
2: At the top right corner, click on the drop-down arrow
3: On the drop-down tab, select "Setting and Privacy."
4: Click on the Your Facebook Information option in the settings. It's in the left column
5: Click "Deactivate and Deletion." Choose "Deactivate Account," then click Continue to Account Deactivation and follow the instructions to confirm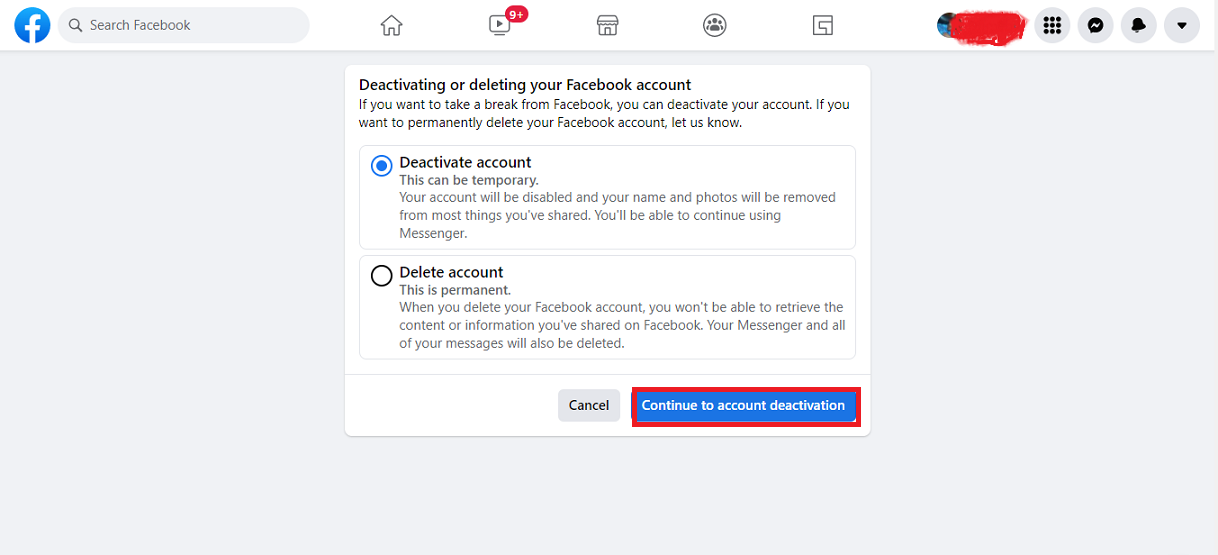 Bear in mind that If you deactivate your account while still logged in on Messenger, your Messenger will remain active. This means that you might need to deactivate your Messenger separately.
Also, an active Messenger account implies that people can still see your profile on Messenger. So they can search for you and drop a message for you on Messenger. You can also still chat with other users.
Just before you delete your account
So your mind is made up, and there is no going back. You're bent on deleting your Facebook. Just before you pull the plug, you may want to take a few precautionary steps.
First, you want to log in to your account and download a copy of your Facebook information and data. This includes your photos, videos, chats, posts, etc. It might be essential to download and back up these for future reference.
To download your information, follow steps 1-4 earlier stated for deactivation, then click on Download Your Information > View. Select what you want to save and what you want to trash,
It would typically take Facebook a couple of days to get this ready. Once it is ready, Facebook will notify you.
Typically, Facebook would do everything to stop you from deleting your account. One of such moves comes from other apps linked to your Facebook account. If any of these Apps log you into Facebook, they will disrupt your account deletion process.
Follow this link to revoke all App permissions.
How to permanently delete your Facebook account
Deleting with Web or Mobile browser
Deleting your account on Facebook need not be tedious. If you don't want the hassle, you can simply click on this link. It'll take you to the page that allows you to delete your Facebook account.
Click Delete Account, input your password, and bid your account farewell.
You could also follow through with steps 1 to 5 for deactivation and select "Delete account."
How to delete Facebook on your mobile device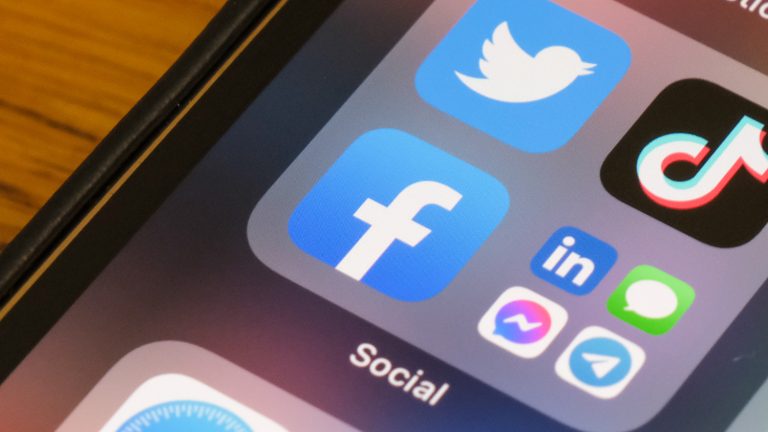 Deleting Facebook on your mobile device isn't quite the same as deleting it with your computer. Here are the steps to follow:
1: Open the Facebook App on your device
2: Tap the menu option at the top right corner of your screen
3: Tap "Settings & Privacy"
4: Next select "Settings."
5: Click on "Personal and Account Information."
6: Tap "Account Ownership and Control."
7: After you tap Account Ownership, you'd see the Deactivation and Deletion Option
8: Select "Delete Account" to have your Facebook profile permanently deleted.
9: Uninstall the Facebook app to fulfill all righteousness.
How to Delete Facebook for a Third-Party
Facebook allows a user to delete the account of another user if they are underage, medically Incapacitated, or deceased.
Underage
Facebook regards any person below the age of 13 as an underage person. To delete an account belonging to a minor, all you have to do is report the account to Facebook. Once Facebook can "reasonably verify" the age of such a user, it will automatically delete their account.
Medically incapacitated
To delete the Facebook account of a medically incapacitated person, Facebook requires some proof that:
The person seeking to delete the account is indeed the official guardian of the incapacitated person.
An official report from a doctor or a medical facility attesting to the terms of the incapacitation.
Be sure to exclude any delicate information that may lead to privacy breaches. Information like medical account numbers and Social security numbers should be excluded
You can go here for directions on how to remove such accounts.
Deceased
A deceased user's account can either be memorialized or removed from Facebook by the user's legacy contact. A legacy contact is a friend or relative of the user, designated so by the user before their demise. The legacy contact must show proof of authority and evidence of death.
For proof of authority, Facebook accepts:
Power of attorney
Birth certificate
Last Will of the deceased
Estate letter
Accepted document to show proof of death:
Death Certificate of the deceased (Best option)
Obituary
Memorial Card
The Legacy contact can then decide to request the removal of the account.